Current Issue
Vol 1 No 20 (2021): The first issue of the twentieth volume of the Iraqi Journal of Biotechnology for the year 2021 was issued, which is issued by the Institute of Genetic Engineering and Biotechnology for Graduate Studies in its new copy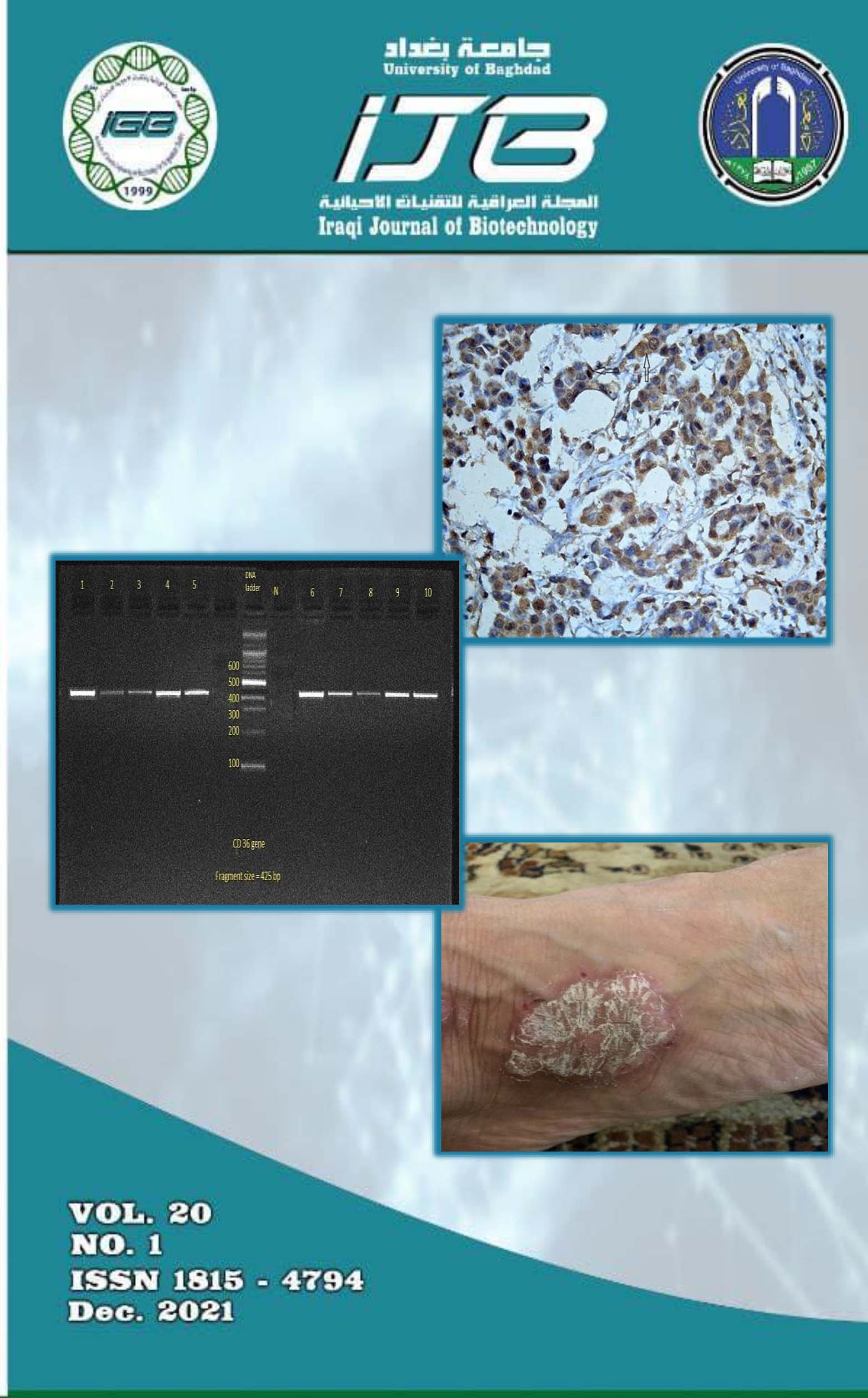 The first issue of the twentieth volume of the Iraqi Journal of Biotechnology for the year 2021 was issued, which is issued by the Institute of Genetic Engineering and Biotechnology for Graduate Studies in its new copy, headed by Assistant Professor Dr. Saife Dawood Al-Ahmer and Editor Manager Assistant Professor Dr. AbdulMuhsin Moslim Shami and Experiences Editor Broad with Precise
Specialization . The issue includes twelve research papers in the field of genetic engineering and biotechnology.
The  first research on the genetic effect of the CD36 gene on hypertension in hypertensive patients in Iraq. As for the second research, it dealt with the process of isolating bacteria and fungi from soil contaminated with petroleum hydrocarbons linked to corn plants, while the third research dealt with the investigation of Epstein-Barr virus from some women patients with cancer using the immunohistochemical technique. The fourth research dealt with the effect of the C677T gene as a male fertility factor. As for the fifth research, it is a study of the relationship between GTM1 and GSTT1 and some physiological indicators in men of low fertility. The fifth research dealt with a genetic and histological study of some types of bacterial and parasitic pathogens. The sixth research is the study of the molecular investigation of Aspergillus flavus isolated from wheat grains in Karbala. The seventh research on the factors causing the development of gastritis disease in some Iraqi patients. As for the eighth research, it deals with the production of Biocin from Pseudomonas aeruginosa, which is resistant to many antibiotics. The ninth research is a study of production and purification with the biochemical properties of the lipase enzyme from Pseudomonas aeruginosa. As for the tenth research, isolate, identify and evaluate the growth of multi-characteristic plants that enhance the Serratia marcescens  for their growth-promoting effects on wheat under salinity pressure. The eleventh paper: The role of EDTA in biofilm eradication of Klebsiella pneumoniae isolated from wound infections. As for the latest research, studying the cytokines IL-17, IL-18 and IL-22 as biomarkers for Iraqi patients with psoriasis.
View All Issues